The environment
Hautefort is only 3 km from our gîte and our campsite. Here you will find a baker, a butcher, a grocery shop, a supermarket and several bars and restaurants. There are also a sculptor's studio, an antique shop, a souvenir / stationery shop. Hautefort has a post office and there is a bank (Credit Agricole) with an ATM in St. Agnan (council of Hautefort, at 5 km).
In the local markets you can buy regional specialties such as confit de canard (duck), foie gras, walnut oil and walnut pie. In Hautefort there is a small market every Wednesday. The big market is the first Monday of the month.
The medieval village is world famous for its impressive Château de Hautefort which you can see from far away. The beautiful castle and the gardens are open to the public.
Information and reservation: phone 05.53.50.51.23.
Web site: www.chateau-hautefort.com
The Old Hospice and the Museum of Medicine are worth visiting. You can see a 17th century infirmary and the museum has a large collection of medical instruments.
Website: www.musee-hautefort.fr
Excursions
The famous Lascaux cave paintings, the caves of Tourtoirac and Padirac.
The towns of Terrasson, Brive, Sarlat, Périgueux, Brantôme (Venice of the Périgord) and Rocamadour.
Canoeing on the Dordogne, the Vézère and the Auvézère.
A visit of the vineyards of Bergerac and Bordeaux.
We as well as the Office de Tourisme in Hautefort can inform you about all the activities in the region, the local markets, day trips, walking and mountain biking trails etc.
Website: www.vezere-perigord.fr
Phone: 05 53 50 40 27
Activities in and around Hautefort:
Walking: From time to time we organize a walk with our campsite as a starting point.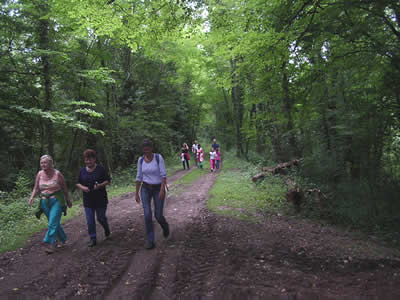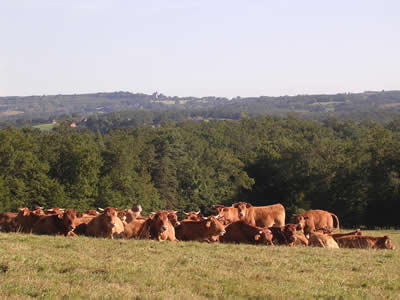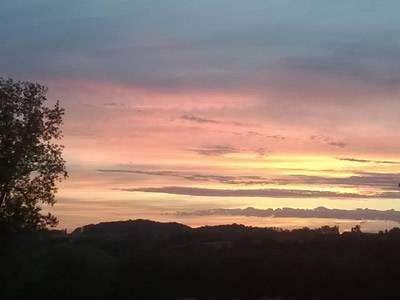 Tennis: There is a public, free accessible all weather tennis court in Hautefort / St. Agnan.
Fishing: In Etang du Coucou (5km). If you wish we can arrange a license for you (Half day € 4.50, whole day € 8 per person). Around the lake is a fitness trail, a walk takes about 45 minutes. All along the shore there are nice spots for a picnic.
Cherveix-Cubas: Canoeing, rafting, climbing, potholing, mountain bike rental.
Open all year round.
Phone: 06.73.47.21.78 / 05.53.52.72.90 (after 19h)

Hot air balloon: Corrèze Montgolfière.
Phone: 06 87 33 86 66
Web site: www.perigord-montgolfiere.com
There are golf courses (18 holes) in Brive (45km), Périgueux (40km) and (a 9 hole course) near St Médard-d'Excideuil (8km).
Web site: www.ffg.org